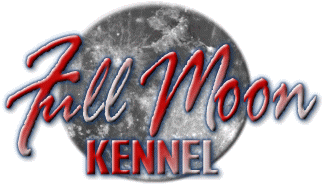 NEWS
last updated 10/18/07

BRAGS

Big Congrats to Tina on her recently attained UKC Championship win with our co-owned boy Full Moon Midnight Rider AKA "Flash" at the CT Classic UKC weekend Way To Go FlashMan!!!!!!!!!!!!!!! Visit Ashe Am Staffs website to see more of Flash by clicking on the following link http://ashesamstaffs.tripod.com/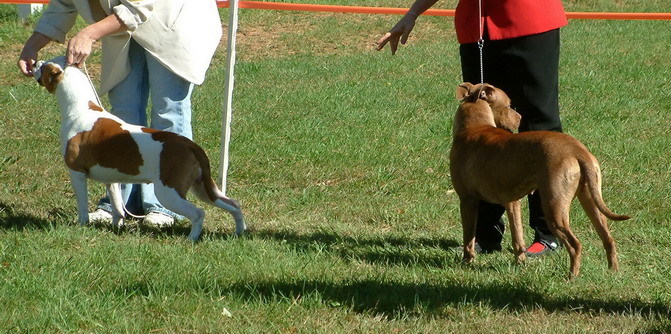 Additional Congrats to Tina on her recently attained major wins (Best Female a.m. and p.m. shows)with Flash's daughter Ashes Solitaire (aka "Uno")at the same CT Classic UKC weekend. "Uno" is the red/white pied bitch in the front...Awesome win for a gorgeous little girl!!!!!!!!!!!!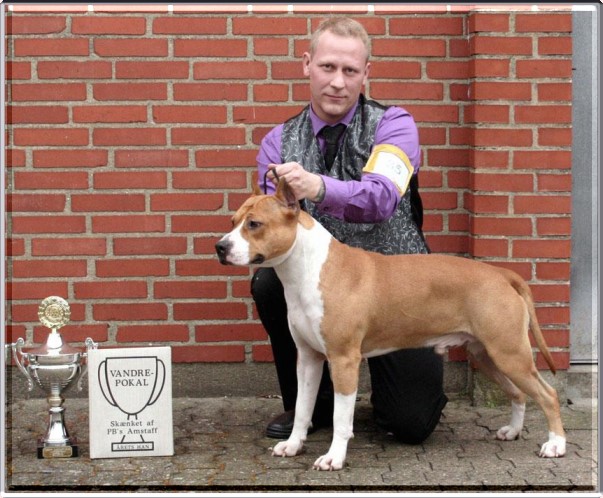 Full Moon Red Barchetta "Chet" Full Moon Red Barchetta Titles NEW Danish Champion JAN 2007 LUCH 2006 JWW06 AMSTAFF MALE OF THE YEAR 2006 DTK # 2 AMSTAFF OF THE YEAR 2006 DK 9 X CAC DK 1 X CAC LUX 4 X BOB 1 X BOS 1 X BIG 4 A huge thank you and congrats goes out to Tonny & Tina of Skyewalker/DK Staffs !!!!!!!!!
See "Chet" on Tonny & Tina's website by clicking on this link http://www.skyewalker.dk/index.htm
It is with Great Pride, and Exceptional Gratitude to Tonny & Tina of Skyewalker/DK Staffs, that I announce Chet's lastest win: Chet won the prestigious title of Junior World Winner at the World Dog Show in Poland owner handled by Tina. Congrats on this incredible win!!!!!!!!!!!!!!!!!!!!!!

DOGS & PUPPIES FOR SALE:
Several young adult males & females for sale - Ruffian bloodlines - Both show potential and companions available. For pics and pedigrees of these dogs you can go directly to this site: http://typeinmyname.tripod.com/
Navigate Below
Homepage // Our Girls // About Us // Our Boys // Puppies // News
---
Site © 1999-2005. Full Moon Kennels.
NOTHING is to be copied or reproduced without written permission.